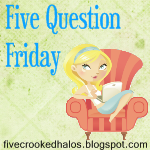 1.
If you could speak with a different accent, what would it be (i.e Australian, Scottish)?
Definitely an Irish accent!
2. Can you fall asleep anywhere? (i.e floor, couch, deck)
Nope! I need to be in my comfy cozy bed.
3.
Do you use public restrooms? If so, do you sit on the toilet?
Only if they are clean and not smell horrific. I never ever sit on the toilet seat! Gross!
4.
If you were stuck in an elevator for 24 hours, what celebrity would you most want to be stuck with?
Cameran Diaz. She's so funny and i know would make me laugh! Laughing is the cure to all dull moments.
5.
Where did you and your significant other go on your 1st date?
We went to Starbucks with my twin sister.