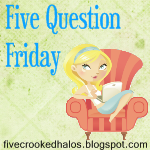 1. Did you have a pen pal when you were little (or now)? Where were/are they from?
Yup i did! I met her at camp when i was in 1st grade. We stayed pen pals til i was in about 6th grade. She lived in some where California.
2. If you could do a different job for one day, what would it be?
Paramedic/Firefighter. That is my total dream job. Finished my EMT school and hopefully this coming Spring i will be in the Fire Academy.
3. Do you remember your biggest fear from when you were little?
I was always afraid of the dark. I still am.
4. What do you think is a waste of time? Why?
I think watching TV is a waste of time. Especially during the day. There is always something more up building and creative to do. We don't really watch it that much. We have our 2 shows we watch a week and that's about it.
5. What is the oldest item you have in your closet?
I have my doll that i have had since i was 2 years old in a little storage box.